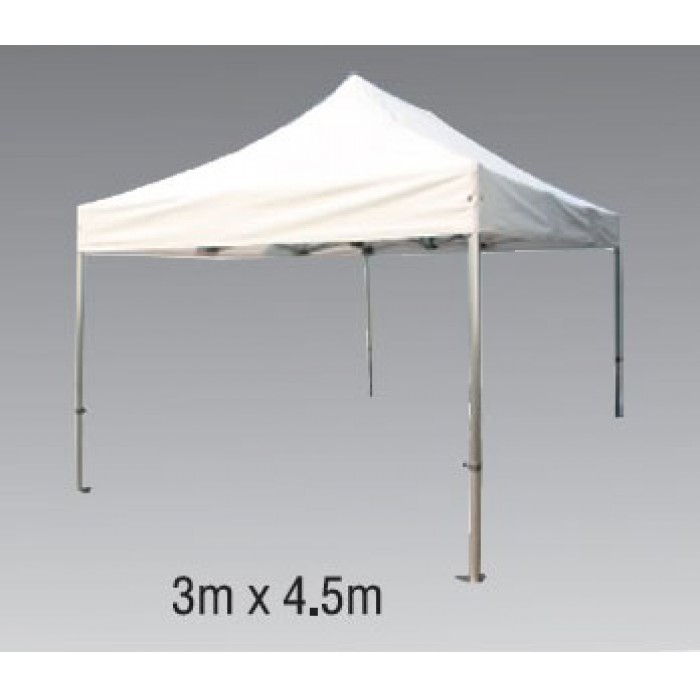 UpSheGoes - 3 x 4.5m Premium
UpSheGoes Gazebo - 3 x 4.5m Premium
600D PE / 300g PVC
Our UpSheGoes 3 x 4.5 metre easy up Gazebos are great if you need a bit more space than the stand square 3 x 3m Gazebo. Often installed semi-permanently these are great for larger market stalls, trade shows, schools, events and home users alike. The 3 x 4.5 Gazebo is perfect for both long-term and short-term use as they have the heavy duty 50mm hex Aluminium frames.
Easily erected, the popup Gazebo style of the 3 x 4.5m can usually be erected by 1-person in under 3 minutes. This is truly an easy-up Gazebo.`
The GazeboNZ 3 x 4.5m is made from heavy duty, long-lasting 50mm anodised aluminium tubing for superior strength.
Supplied with your UpSheGoes Gazebo are:
A Gazebo Canopy (Roof) made from 600d Polyester coated with 300g PVC to keep it waterproof.
A heavy duty 620 Polyester zipped carry bag on wheels to make moving your packed Gazebo around a breeze
Guy ropes and pegs
Instruction manual
Accessories to add to your UpSheGoes Gazebo include;
Sides with a front door side panel
Back Wall
Front wall with door panel
Half-walls - half height gazebo walls to keep people out but still be visible
Aluminium Gazebo counter - great for shows and events the counter front is a must and covers up well with the half-wall
Frame
Frame Material
Anodised Aluminium
Frame Thickness (mm)
50mm Hex Tubing
Cross-bar Material
Anodised Aluminium
Joints
Cast Aluminium
Cross-bar Thickness (mm)
12mm thick centre reinforced struts
Cross-bar connectors
Stainless Steel
Foot Plate
Aluminium - heavy duty - 140 x 140 x 10mm
Pull Pin
Ring Style - coated (Red)
Material
Cover Material
420D Polyester
Cover Coating
450g PVC
Dimensions
Opened Dimensions (mm)
2968 x 4395
Closed Dimensions (cm)
160 x 43 x 33
Weight
Net Weight (kg)
Frame - 42kg
Components
Carry Bag
600D Polyester Carry bag on wheels with pull handle
"I was sick and tired of buying a cheap gazebo that lasted 1 season. This will last me for years!"

"Nailed my gazebo to the back deck for winter. Plan to uplift it and take camping this Christmas."

"These are great! I put one up by myself (the 3x3m one) & it was pretty quick & easy! I was very impressed! Musch stronger too than the usual Gazebos you see around. This one should last for years. Hey and there is a 10-year warranty to back it up. So if you or one of your friends are after a great Gazebo these are seriously worth looking at!"
‹
›